In a move that probably surprised no one who's been reading the stellar investigative reporting of San Antonio Express-News business writer Patrick Danner, a federal grand jury issued indictments today against state Sen. Carlos Uresti, D-San Antonio, and others in a criminal case that accuses them of bribery and orchestrating a Ponzi scheme.
It was Danner who revealed last summer that Uresti was entangled in a bizarre saga.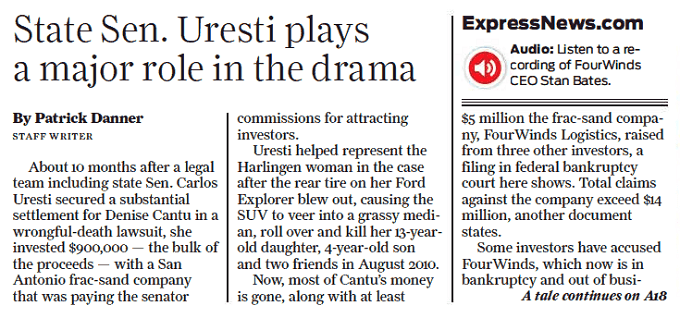 Here's the lede:
About 10 months after a legal team including state Sen. Carlos Uresti secured a substantial settlement for Denise Cantu in a wrongful-death lawsuit, she invested $900,000 — the bulk of the proceeds — with a San Antonio frac-sand company that was paying the senator commissions for attracting investors.

Uresti helped represent the Harlingen woman in the case after the rear tire on her Ford Explorer blew out, causing the SUV to veer into a grassy median, roll over and kill her 13-year-old daughter, 4-year-old son and two friends in August 2010.

Now, most of Cantu's money is gone, along with at least $5 million the frac-sand company, FourWinds Logistics, raised from three other investors, a filing in federal bankruptcy court here shows. Total claims against the company exceed $14 million, another document states.
It was a blockbuster story Danner discovered while covering the daily grind of bankruptcy court proceedings. Danner told me that he had been planning on writing a story about failed oil companies in the Eagle Ford Shale. But he stumbled across a much bigger story about Uresti while attending a bankruptcy hearing involving FourWinds.
Uresti hasn't been convicted of a crime. But if you're looking for a primer on the case and a shining example of the value of investigative reporting, check out the entire story. It's worth it.