Stories and multimedia projects by John Tedesco
March 10, 2017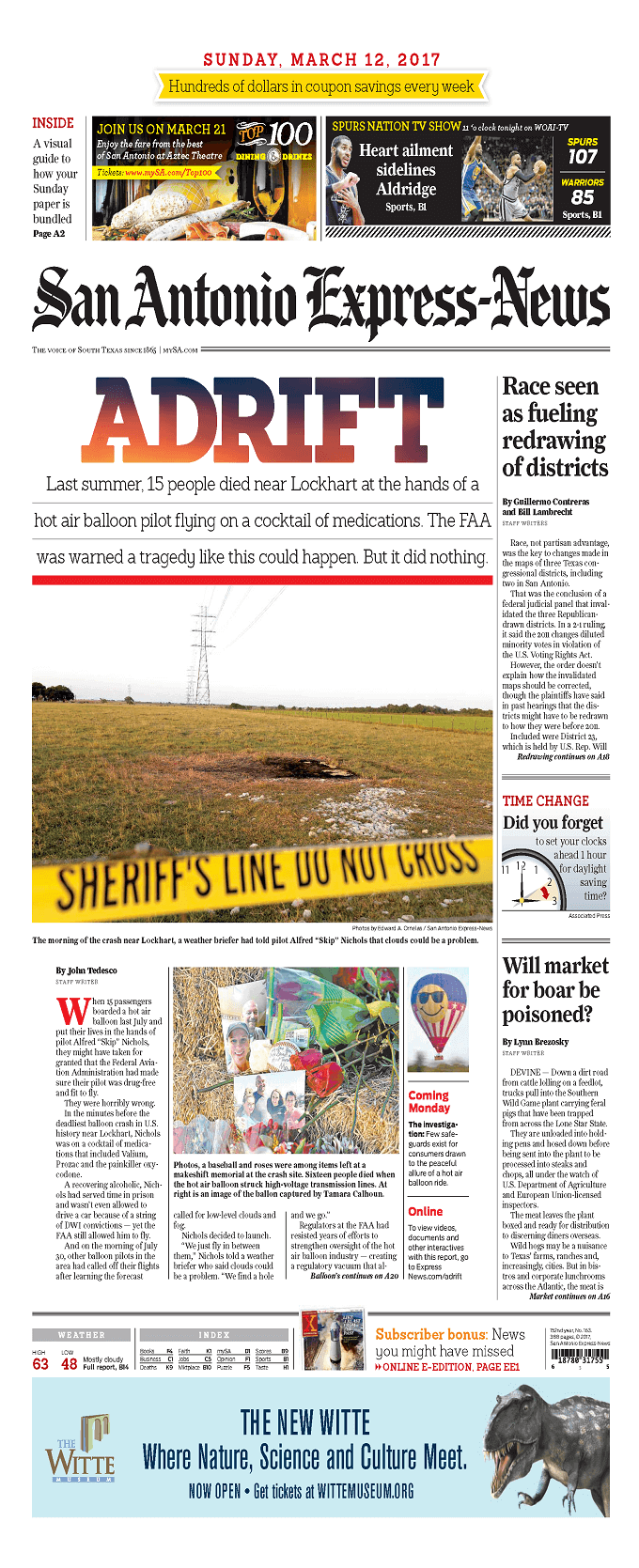 When 15 passengers boarded a hot-air balloon last July and put their lives in the hands of pilot Alfred "Skip" Nichols, they might have taken for granted that the Federal Aviation Administration had made sure their pilot was drug-free and fit to fly.
May 29, 2016
Signs of a disparity in how Anglo and minority suspects are treated by San Antonio police have existed for nearly 20 years, when SAPD began tracking in 1998 how often officers subdue suspects. Police records show that disparity still exists …
August 24, 2014
Oil and gas companies rushing to drill in the Eagle Ford Shale since 2009 have burned and wasted billions of cubic feet of natural gas — enough to meet the needs for an entire year of every San Antonio-area household that relies on the fossil fuel…
Oct. 9, 2011
From the outside, the Texas Highway Patrol Museum doesn't look like a multimillion-dollar telemarketing operation…
March 11, 2007
City records show the Fire Department's mission of protecting lives and property is clashing with San Antonio's appetite for new land.
In the past six years, firefighters rushed to inner-city blazes far more quickly than to fires in popular outlying areas that attract thousands of new homeowners.
Delays on the city's edges plague rich and poor alike, from the exclusive enclave of the Dominion to low-income neighborhoods like Sunrise, a struggling community on the far East Side.
San Antonio annexed many of these neighborhoods despite protests by residents, who complained the city would fail to provide swift fire protection.
The city's own records reveal that most of the time, those fears came true …
May 21, 2006
never would run again …
Oct. 16, 2005
An obscure Texas law written for developers has cost San Antonio millions of dollars, stripped parts of the scenic Hill Country of trees and blocked attempts to protect the region's water supply …
May 11, 2003

Imagine a government subsidy that cures San Antonio's poorest neighborhoods.
Thanks to this multimillion-dollar pill, new homes breathe life into dying parts of town. Families move in, proud of their investment.
You might say good things about such a program.
Now imagine how the same subsidy puts buildings on valuable land that would have been developed anyway, and stops local government from collecting $658 million in tax revenue – enough money to build three SBC Centers, and then some.
And imagine one of the city's top lobbyists taking a cut of the tax pie for himself.
Welcome to San Antonio's complicated world of tax increment financing — TIF, for short — where each ambitious project comes with a price …
---
Adrift
Up in Flames
Reliving the Battle of the Alamo
Concealed handgun permits skyrocket in wealthy zip codes
---
Story map
For 20 years, I've traveled across Texas, met interesting people, and shared their stories with readers of the San Antonio Express-News. Click on a point on this interactive map to read more, and feel free to contact me to offer story ideas and feedback.

View Texas Stories in a larger map