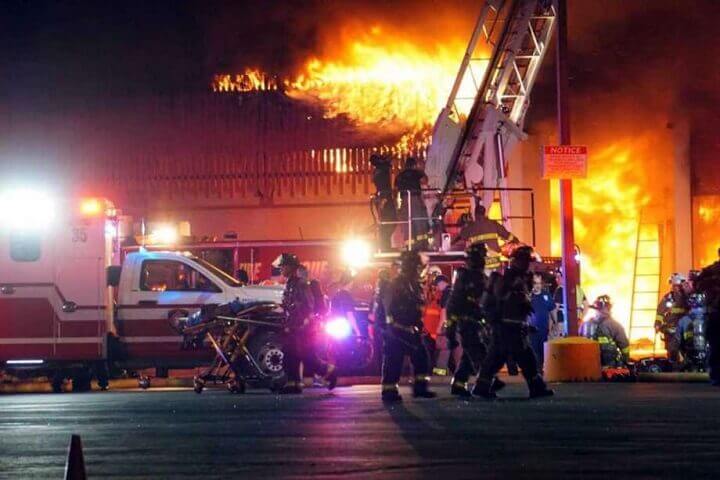 Investigative stories across Texas about the death of San Antonio firefighter Scott Deem; the prolific and dangerous use of Tasers by police; and efforts to keep a killer nurse behind bars.
Radio traffic: Thick smoke, confusion hampered efforts to rescue missing firefighter Scott Deem | San Antonio Express-News
"Hours after a San Antonio firefighter was killed in a Northwest Side strip mall inferno — the first to die in the line of duty in 20 years — Fire Chief Charles Hood stood by his decision to suspend the search for one of their own, calling it 'one of the most difficult decisions' of his life."' Story by Emilie Eaton and John Tedesco.
Bexar County prosecutors race to keep notorious Angel-of-Death behind bars | ProPublica and Texas Monthly
"Three decades ago, a young nurse named Genene Jones made international headlines as the suspected serial killer of more than a dozen infants in the pediatric intensive care unit at San Antonio's charity hospital. Hoping to keep Jones locked up, prosecutors launched a secret investigation to see if they could bring a new murder charge in one of the coldest cases imaginable." Story by Peter Elkind.
'48 marks on his back' — How Tasers figure into deaths in police custody | Austin American-Statesman
"The Rockdale police summary of how Rosendo Gaytan died on Halloween night 2006 during his arrest for public intoxication is clinical and brief: 'While in the booking area of the Milam County Jail the subject continued to be uncompliant and assaultive. Taser was utilized in an attempt to gain subject's compliance. While subject was being restrained he became unresponsive.' An investigation by the Texas Rangers, completed three months after his death, contained a much more detailed — and troubling — narrative of Gaytan's final minutes." Story by Eric Dexheimer and Tony Plohetski.
Dozens of Abbott appointees surpass donor threshold targeted by stalled "pay for play" bill | The Texas Tribune
"At least 71 of Abbott's nearly 800 current appointees appear to have donated more than $2,500 to the governor's campaign account since 2013, giving a combined total of at least $8.6 million, according to a Texas Tribune analysis of campaign finance reports and a list of Abbott appointees received from the governor's office through an open records request." Story by Jolie McCullough.
Did I miss a good story? Contact me or leave a comment below.