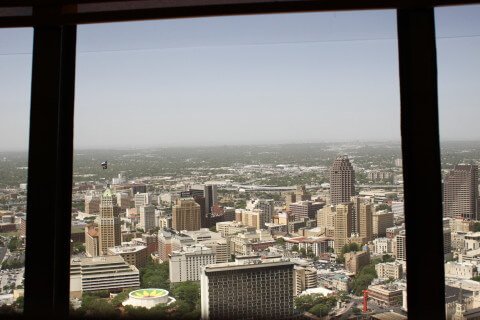 The elevators at the Tower of the Americas in San Antonio look like something out of the Jetsons. Yet every once in a while, the futuristic contraptions get stuck, stranding people hundreds of feet in the air.
Last week it happened again. Firefighters rescued 14 people, including two children, who were trapped inside a stalled elevator. This time they were only 50 feet high. But on a hot summer day they had no air conditioning for part of their two-hour ordeal.
If all these incidents are making you wonder about the safety record of elevators at the tower or your office building, there's a quick way to find answers in Texas.
An obscure state agency, the Texas Department of Licensing and Regulation, oversees a hodgepodge of industries such as barbers, boilermakers and tow-truck companies to name a few.
Elevators and escalators are also under TDLR's purview. State law requires elevator and escalator owners to hire a licensed inspector annually to check the machinery. Many owners also hire contractors to conduct routine maintenance and repairs.
The results of the annual inspections are sent to TDLR, which has been posting them all online since 2001. The first time I worked on a story about a stuck elevator at the Tower of the Americas in 2006, I was pleasantly surprised to learn that TDLR offered a quick way access those annual inspection reports and other documents online.
Not every agency makes this kind of thing so easy, even in 2015.
Searching for records
On the search page, you can type parameters such as owner name or building address:
Click on the search result you want — in this case, the Tower of the Americas — and the next page shows how many elevators and escalators are in the building. Clicking on the "show documents" button takes you to a list of downloadable inspection reports and correspondence.
It's a timely, useful resource. But it's not perfect.
Past tragedy
While TDLR offers easy access to individual inspection reports, the agency doesn't plug in the results of those inspections into any kind of database that could be analyzed and show just how often major problems are found.
And a tragedy at the Crockett Hotel in San Antonio revealed weaknesses in Texas' regulatory system on Dec. 28, 2011, when a 65-year-old housekeeper named Gloria Rodriguez fell six stories to her death down an elevator shaft.
Past inspections for the elevator looked relatively benign. But after the fatal accident, TDLR's chief inspector, Lawrence Taylor, scrutinized the elevator and found a litany of problems. In tests, Taylor saw the elevator car stop at a landing, then move upward of its own accord with no signal to run.
Taylor called that a "matter of grave concern."
No one actually did anything meaningful or effective to uncover the real problem"
"Someone with special knowledge of the elevator control system knew that there was a problem with the brake and intentionally installed a jumper and moved wires in an attempt to overcome the problem(s)," Taylor
wrote in his report
. "However, no one actually did anything meaningful or effective to uncover the real problem(s) and embark on a course of action that would have solved the problem and prevented this tragic event.
"This tragedy was preventable," Taylor wrote, "and was a direct result of the failure to have the elevator inspected as required and inadequate maintenance."
TDLR fined the owner of the Crockett Hotel and its contractor, Otis Elevator Co., nearly $86,000 for Rodriguez's death.
Over the years I've spoken with TDLR employees about the valuable service the agency provides by making so much information available on its website for so many years. But given the tragedy at the Crockett Hotel, just how reliable are the state-mandated annual inspections?
"When you consider how many elevators there are in the state and that they're working every day, I think overall they are effective," said Susan Stanford, a spokeswoman for TDLR.
Customers can help keep each other safe by checking certificates that are supposed to be posted near every elevator and see whether it's overdue for an annual inspection, Stanford said. And she emphasized that elevator accidents are rare. Even at the Tower of the Americas, where elevators routinely get stuck, the incidents are usually a sign that safety mechanisms worked.
Related: Web tools and apps to track weather emergencies in Texas
"Instances involving a major violation don't happen often, but they do happen," Stanford added in an email she sent me today. "Inspectors identifying 'reportable conditions' are required to notify TDLR and must request the owner's cooperation in shutting down the equipment until it is repaired or brought into compliance."
Escalator danger
While it's unnerving to be trapped inside an elevator at the 622-foot-tall tower, mundane escalators harm more people. Escalator and elevator owners have to report injuries to TDLR, and in San Antonio the injuries usually stem from escalator accidents. In 2010, a 3-year-old child trying to go up an escalator at Rolling Oaks Mall fell and got two fingers stuck. They were amputated.
I didn't find much fodder in the most recent elevator inspection records posted for the Tower of the Americas. But after an earlier incident at the tower on Dec. 28, 2012, the search was more productive and led to this news story:
All three elevators at the Tower of the Americas, where several employees were trapped early Friday in one of the cars about 400 feet in the air, were behind schedule on state-mandated annual inspections, records show.

The Texas Department of Licensing and Regulation sent notices in May to Landry's Inc., the company that operates the city-owned landmark, warning that inspections due in April were late. The licensing department oversees elevator safety.

Landry's later told the agency it completed the inspections in September and October. But the company hasn't yet filed the results of the inspections for at least one of the elevators, according to a Dec. 27 notice the agency sent to Landry's.
Past inspections at the Tower of the Americas uncovered rusted brackets that came loose from the tower structure. Inspectors also recommended adjusting safety mechanisms for all three elevators. The mechanisms, called "governors," control speed. One of the elevators flunked a safety test for its governor.
So these inspection reports can be interesting reading. Just remember the Crockett Hotel and keep in mind you might not be seeing a complete picture of an elevator's safety record.