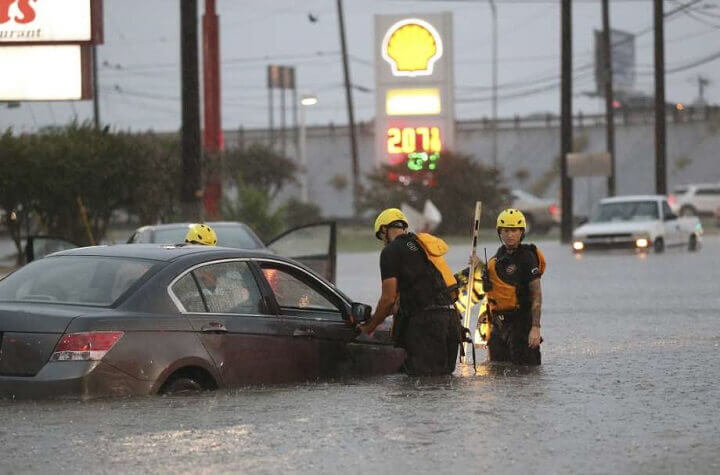 A fresh batch of must-read investigative stories that uncovered hidden facts and held officials accountable across Texas:
Texas cities unprepared for monster floods | San Antonio Express-News/Texas Tribune/ProPublica
With Hurricane Harvey bearing down on Texas and forecasters warning the storm could dump 20 inches of rain in some counties, it's a good time to revisit news stories about the monster floods that keep striking Texas.
Hell and High Water and Boom Town, Flood Town by ProPublica and the Texas Tribune reveal why Houston is woefully unprepared for big storms.
The San Antonio Express-News detailed how the spread of parking lots, buildings and other forms of "impervious cover" worsens the impact of flood waters. "It's only in the past two decades that San Antonio has had drainage regulations," the newspaper reported. "Before that, developers were required to do very little to address excess stormwater runoff caused by their projects." Stories by Vianna Davila, Brendan Gibbons, Neena Satija, Kiah Collier and Al Shaw
'This is not hazing. This is rape': Inside a Texas town's football nightmare | The Daily Beast
How the quiet town of La Vernia is dealing with brutal hazing allegations involving the high school football team and casting blame.
"After the accusations came to light, other students harassed the alleged victims in the halls, calling them 'rats' and 'snitches.' … "High-schoolers were largely instructed by teachers to keep quiet about the allegations." … At a school event that turned tense, La Vernia Police Chief Bruce Ritchey "hid behind a column in the very back of the room, where extra chairs were stacked, where no parents or reporters could see him." Story by Olivia Messer
Former mayor Ivy Taylor sought unemployment benefits from the city of San Antonio | San Antonio Express-News
In an unusual move, ousted San Antonio Mayor Ivy Taylor sought unemployment benefits from the city, even though elected officials are ineligible for such benefits. Bexar County Judge Nelson Wolff called Taylor's actions "really strange."
"I lost two races. I should have thought of that when I lost," Wolff joked. Story by Josh Baugh
Spring Hill ISD email offers details on scoreboard investor | Longview News-Journal
A controversial, $500,000 scoreboard at the Spring Hill Independent School District was supposed to be paid with private funds, not taxpayer dollars. But an email obtained under the Texas Public Information Act shows no private donations had been secured when officials announced taxpayers wouldn't have to foot the bill for the scoreboard. Story by Meredith Shamburger
Did I miss a good story? Contact me or leave a comment below. Don't forget to sign up for blog updates and check out more watchdog journalism from the great state of Texas.