Guess where we stayed last week. Here's a hint: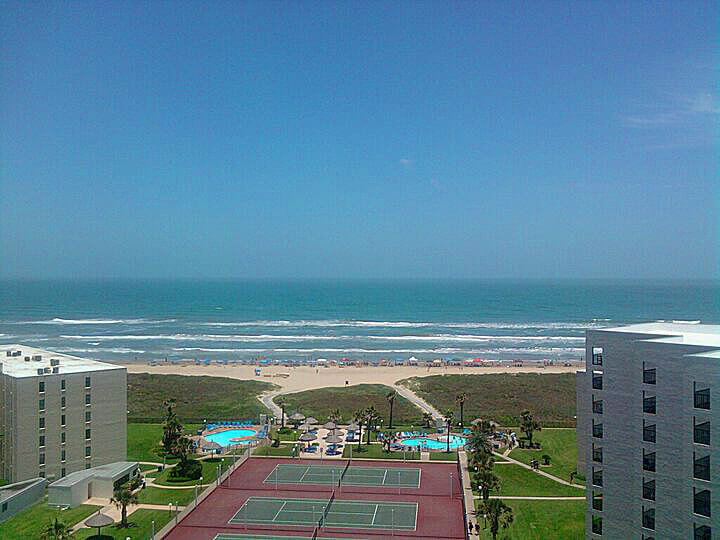 This, my friends, is South Padre Island, where Jen surfed and baby Pete got to marvel at the ocean for the first time.
But when it was time to go and we tried to catch our Southwest Airlines flight out of Harlingen, a "mechanical issue" delayed our plane before it even arrived at the airport. Once it landed, all the passengers lined up to board. But then we were told the mechanical issue had to be fixed again. The hours dragged by as we entertained Pete and hoped he stayed in a good mood.
When you're stuck at the airport, it's a good idea to channel your inner Louis C.K. and remember that long-distance trips used to take weeks or months, not hours. At the same time, it does get annoying when you realize you could probably drive to your destination faster than the time you spent waiting at the airport. And you also wonder exactly how safe your plane is if it's grounded for a nagging "mechanical issue."
Related: Hot-air balloon pilots face little scrutiny from FAA despite higher crash rates
I asked one of the Southwest attendants what the nature of the mechanical issue was, and he told me it was a hydraulic leak. The mechanic on call was about 30 miles away in Brownsville, and he didn't even arrive to start fixing the leak until 4:20 p.m., about two hours after our flight was supposed to depart. He drove up in an SUV, talked on his cell phone for about 10 minutes, and started taking apart the left engine:
The chances of getting hurt in a plane crash are very, very low. But if you've got nothing to do while a lone mechanic is trying to figure out what's wrong with the plane that's about to hurtle you and your family through the sky, there's a way to pass the time and check the plane's safety record.
Look for the "N" number near the tail. Here's a photo of the number on our plane:
With that number, you can visit this website maintained by the National Transportation Safety Board and check a database of reports documenting aviation accidents and incidents. You can search by all kinds of parameters — including the N-number of a particular aircraft.
You never know what you're going to find when you do these searches. Nearly 10 years ago, an engine on a Continental Airlines jet carrying six Corpus Christi officials malfunctioned and the flight had to make an emergency landing. No one was hurt. I checked the N-number and found the same plane had a similar problem nearly a year earlier. Here's the top of the Dec. 8, 2000 story I wrote:
A Continental Airlines jet that made an emergency landing after an engine failed Wednesday experienced a similar incident last year in Florida, government records show. No one was injured at the Corpus Christi International Airport when a Boeing MD-80 carrying 65 passengers – including six city officials – made an abrupt emergency landing shortly after one of its engines lost power.

City Council members described hearing loud popping noises from the right side of the aircraft. Jim Nelson, chief of public safety at the airport, said the plane was able to land with its remaining engine.

"We could tell something was wrong," City Council member Melody Cooper said. "It was really scary. All they told us was they couldn't fire (the engine) up to full power. I guess we didn't know enough to scream."

On March 16, 1999, the same passenger jet had taken off from Fort Lauderdale-Hollywood International Airport in Florida when a "loud bang" was heard during the first few minutes of flight.

The plane's left engine failed, according to a Federal Aviation Administration incident report, and the pilot circled back for an emergency landing. None of the five crew members and 141 passengers was injured. …
The accident database is an amazing resource. You can search the narrative field of all the incident reports. So you could search for the words "bird" or "birds" if you're curious how often they cause problems for aircraft. That became an important issue after a flock of birds struck a US Airways flight and forced it to land in the Hudson River.
Read more: How to make stunning time-lapse videos: Q&A with photojournalist Tamir Kalifa
The N-number can tell you the model of a plane, who owns it, and its age — our plane, not surprisingly, was a Boeing 737, the workhorse of Southwest Airlines. You can also look up Service Difficulty Reports, which document what are usually minor problems. Landings.com also offers access to the same government databases.
In our case, about the craziest thing I could find for our plane was a service difficulty report in 1998 that said the plane had to make an unscheduled landing because of a leaky window. In the accident database, there was no mention of our 737's N-number, which made me feel better when we finally boarded the flight and made our way home.