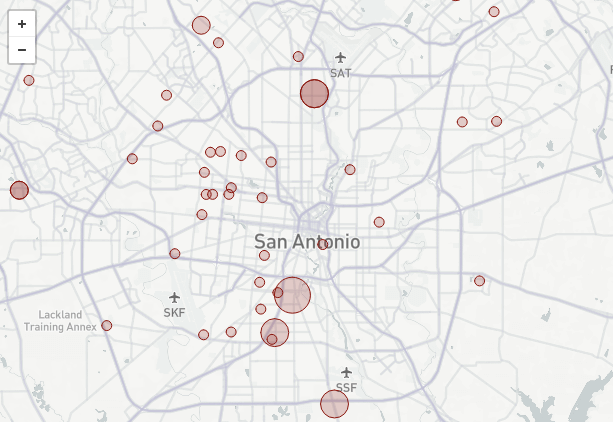 Investigative stories in Texas about vicious dog attacks, immigration raids, and a city official using public resources for personal business.
Biting dogs are a vicious problem in San Antonio | The San Antonio Express-News
Two dog owners were on trial last week after their pit bull named "Bully" viciously mauled their neighbor, who lost part of her arm in the attack. The San Antonio Express-News examined gaps in the city's Animal Care Services system and obtained public data to map where aggressive dogs are located in San Antonio and where they've attacked people. Story by Melissa Fletcher Stoeljte, Vincent T. Davis and Luke Whyte
UT declined to sanction professor who pleaded guilty to violent felony | The Austin American-Statesman
A day after @statesman report on professor who kept his job after domestic violence conviction, @UTAustin plans policy review: https://t.co/a1iDvTytKA

— John Bridges (@JohnBridges) January 26, 2018
After the Austin American-Statesman revealed a professor pleaded guilty to a criminal charge of strangling his girlfriend but kept his job, officials at the University of Texas announced they're reviewing their disciplinary policy. Story by Ralph K.M. Haurwitz and Ryan Autullo
Turner aide who used city resources for personal business resigns | The Houston Chronicle
JUST IN: Turner aide who used city resources for personal business resigns https://t.co/3UwCSB5Bfj via@houstonchron #txlege #txpolitics @HoustonChron

— ChronicleMike (@ChronicleMike) January 26, 2018
Mayor Sylvester Turner's press secretary, Darian Ward, resigned after the Houston Chronicle revealed she sent or received 5,000 emails discussing her personal business on her city account. Ward tried to prevent the newspaper from obtaining the messages, claiming they were confidential. Story by Rebecca Elliott and Mike Morris
ICE Arrested Nearly Three Times as Many Immigrants During Last Year's Austin Raid Than Previously Reported | The Texas Observer
"Now, in response to a nearly year-old @bova_gus public information request, an internal ICE tally obtained by the Observer reveals that ICE nabbed 132 immigrants in the Austin area, nearly triple the number previously reported." #txlege https://t.co/rmjM1L2ciH https://t.co/RuldsVGnFZ

— Kolten Parker (@KoltenParker) January 25, 2018
A raid last year by Immigration and Customs Enforcement agents in Austin resulted in far more arrests than previously reported, according to an internal tally obtained through a Freedom of Information Act request made by the Texas Observer. The federal agency took nearly a year to release the documents. Story by Gus Bova
Castle Hills councilman accused of pressuring staff to move his street near top of repair list | KSAT-12
Castle Hills police confirm that a city councilman was investigated for allegations of abuse of power late last year after multiple city employees said he pressured them to move the street he lives on to near the top of the city's street repair list. https://t.co/czCeGEPIdf

— KSAT 12 (@ksatnews) January 26, 2018
Records obtained by the KSAT Defenders show that Castle Hills Councilman Douglas Gregory was accused of pressuring city employees to move his street to the top of the city's repair list. A former city manager called Gregory a "liar and a cad" after Gregory denied the allegations. Story by Dillon Collier
Did I miss a good story? Contact me or leave a comment below. Don't forget to sign up for blog updates and check out more watchdog journalism from the great state of Texas.