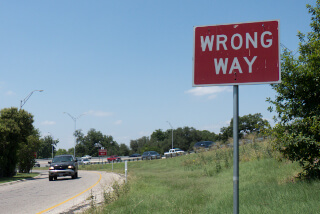 WOAI featured a unique, data-driven story last week about the high number of accidents caused by inattentive drivers talking on their cell phones. Journalists at the television station analyzed an accident database kept by the Texas Department of Transportation that tracks contributing factors for all vehicle crashes in Texas.
To get the story, WOAI had to fight a lengthy open-records battle with TxDOT. During their legal dispute, TxDOT took the unusual step of asking a state senator to write a bill that, in its original form, would have kept the entire database private.
The dispute between WOAI and TxDOT is a telling example of how difficult it can be to get important information out to the public. In some cases, it's a long, expensive slog — it took nearly two years for WOAI to get its hands on the data.
WOAI Reporter Brian Collister of Trouble Shooter fame asked for the accident data on Jan. 5, 2008. Collister told me he wanted to analyze it for patterns, like the main factors that cause accidents in Texas, and where dangerous roadways are located. The database is called CRIS — Crash Records Information System.
In response to Collister's request, TxDOT asked the Texas Attorney General's office whether it was required to release the data. TxDOT argued that Texas has a law on the books intended to prevent ambulance chasing lawyers from getting easy access to hardcopy accident reports. Anyone asking for an accident report in Texas has to provide some identifying information, such as the location and date of the crash.
But in a March 31, 2008 letter, the attorney general determined the database didn't fall under the anti-ambulance chaser law, so most of the database was open to the public.
TxDOT turned to the courts in an attempt to withhold the data — the agency sued the attorney general. Collister said WOAI joined the suit to get the database from TxDOT.
Related: Road rage in Texas: Find accidents in your neighborhood with this interactive map
"We got into a big fight with them," Collister told me. He said WOAI and TxDOT began negotiating a way to resolve the lawsuit. According to Collister, WOAI wasn't really interested in the personal information about the drivers — their names and dates of birth, for example. The television station wanted the data that detailed what caused the accident and other factors. Collister said WOAI had agreed to allow TxDOT to release the data with the personal information removed.
Then lawmakers got involved.
By chance, Collister learned that TxDOT had asked state Sen. John Carona to write a bill that, in its original form, stated that TxDOT's entire database fell under the anti-ambulance chaser law. The move would have essentially kept the database private, because there'd be no way for someone like Collister to provide all the identifying information of every single accident in the data. Carona's bill said TxDOT would be allowed to provide statistical information to the public.
Collister learned about Carona's Senate Bill 375 on a Friday, and found out TxDOT had requested the bill. "It was so freagin' infuriating, I couldn't relax that whole weekend," Collister said.
Carona is chairman of the Senate Committee on Transportation & Homeland Security, and a legislative hearing for the bill was scheduled for March 18, 2009. Media organizations such as the Freedom of Information Foundation of Texas opposed Carona's bill, and Collister also drove to Austin to testify against it.
At the hearing, state Sen. Jeff Wentworth, R-San Antonio, a member of the committee and an open-records advocate, said he wasn't quite sure why Carona's bill was necessary. Carona explained he was concerned that the media was "overreaching" by asking for the accident data.
"To me, the mere notion that the broadcast community would come and request an entire database of that type of information is overreaching," Carona said.
Wentworth asked to hear from TxDOT on the issue. He said taxpayers paid for the data, so why shouldn't they get access to it?
"It's the public's information," Wentworth said. "They paid for it."
TxDOT's Carol Rawson, deputy director of traffic operations at the time, testified that the agency was concerned about personal information being released.
"That's why we came to Senator Carona to try to help us a little bit," she said.
After Rawson testified, it was Collister's turn. Introducing himself as "a nosy investigative reporter," he told the senators: "I'm the reason this bill was filed. I filed the open records request." He pointed out that WOAI had already agreed with TxDOT to take the personal information out of the data.
"No one wants to open the door to ambulance chasers," Collister said. By making the rest of the database public, the records could be analyzed to show where the most dangerous highways are in a community, for example, or where the most drunk driving incidents occur.
"That's what folks like me use this data for," Collister said.
Carona told Collister: "We think you've got very legitimate points," and the bill's language was later changed to withhold a laundry list of personal information like names of drivers. The legislation made the rest of the data public. The bill became law on June 19, 2009.
I talked to Rawson this morning to get her perspective on the open-records dispute. She insisted that TxDOT wasn't trying to be sneaky and win its lawsuit with the attorney general and WOAI by asking for Carona's help. She said Carona's bill was very helpful in making clear what information in the accident database was public, and it addressed the agency's concerns about personal information.
I pointed out that Carona's original bill would have blocked the release of the entire database. "The bill did start off a little stronger," Rawson said. But she said she understood where Collister was coming from. And she agreed that the data could be a very useful tool in making roads safer for the public.
"It wasn't that I wanted to be stingy and withhold the data," she said, adding: "I could see Brian's point, and I think he could see my point."
She laughed when I asked what it was like to deal with Collister. "He was like a bulldog."
I also spoke with Angie Cervantes, a policy analyst for Carona who worked on the legislation. Cervantes said the original draft of the bill that withheld the entire database was too strongly worded.
Related: How to reach an investigative reporter in San Antonio, Texas
"It was really about protecting the personal information and figuring out how we can do it," she said. Even though WOAI had been negotiating with TxDOT to weed out the personal info, the legislation was still needed to deal with ambulance chasers who might demand the entire data, Cervantes said.
Collister told me he received the data in November. It includes contributing factors for accidents such as cell phone usage, road rage, and drunk driving. WOAI crunched the numbers, and also asked TxDOT to conduct its own analysis to make sure the agency didn't dispute WOAI's research. The station plans follow-up stories.
This case shows why an economic model is vitally needed to support in-depth journalism. It would be very difficult for a part-time blogger to pursue this kind of story. It costs time and money.
Anyone who does this kind of work, whether they're bloggers, newspaper reporters, or nosy broadcast journalists, deserves a pat on that back — and financial support.