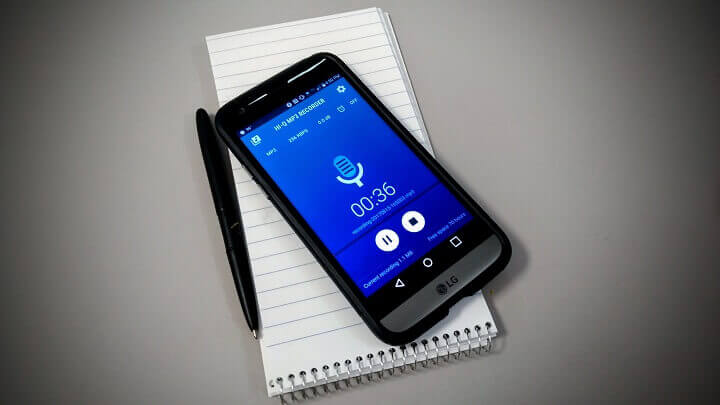 Smartphone apps have radically changed the ways journalists do their jobs. With the right tools, your phone can become a photocopier, audio recorder, high-quality video camera and police radio scanner all rolled into one.
Here's a running list of Android apps that have helped me over the years. I'm continually updating this list as old apps die and new apps come to life. Contact me if you've found something amazing and I'll be sure to add it. Many of these tools will also help iPhone users find, organize and share information, and some are designed to keep your data private.
Recording interviews with Android apps
The best Android recording apps I've found are Hi-Q MP3 Voice Recorder and Cogi. The audio quality on both apps is crystal clear, and you can adjust the size and bit rate of the files.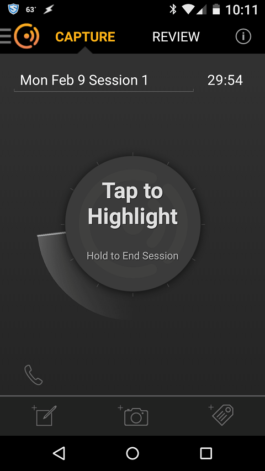 Cogi brings a unique angle to the recording field by letting you cherry pick what you want to keep.
Let's say you're writing about a long, boring City Council meeting. You don't want to record the whole thing. But you don't want to miss anything juicy, either.
Open Cogi and start a recording session. When you hear something interesting, tap "highlight." Cogi starts actively recording and magically goes back in time to record what was said up to 45 seconds earlier so you don't miss anything. When the interesting part ends, tap the screen again to stop actively recording. You can repeat this as many times as you like.
Related: How to solve impossible problems: Daniel Russell's awesome Google search techniques
Hi-Q MP3 Recorder offers outstanding audio quality and allows you to automatically upload your files to Dropbox or Google Drive. It has a widget button you can put on your home screen to quickly start and stop recording. For some Android phones, it can record phone calls. I use this app for most of my interviews.
Taking notes and organizing files
I view Evernote as a vast, searchable, personal archive — a place for primary documents, images and web pages that can be tagged and retrieved in moments.
When you save a file to Evernote, all the text in that file is searchable — even in jpg images. So if you're on deadline and desperately need to find a picture of a business card you uploaded to Evernote months ago and vaguely remember the person worked for the city of San Antonio, search your Evernote files for "city of San Antonio" to call up all those business cards to find the right match.
You can organize your files into notebooks and tag them to further refine your searches. Your files are synced with Evernote and can be accessed from other devices.
While Evernote is great for saving and searching documents, I found it to be a bit glitchy for taking actual notes. For no-frills note taking that puts the focus on writing, try SimpleNote, offered by the makers of WordPress. I've been using it for a few months and it really is dead simple, which is a good thing. If you want more features, Google Drive is for you.
But the problem with services such as Evernote and Google is that they can access your notes, files and messages and hand them over to authorities without even telling you.
To beef up your security, avoid creating files in the cloud if you're working on a sensitive story and use apps that protect your notes with end-to-end encryption, which means no one can make sense of those files except you.
Evernote offers a way to encrypt text within each note. Standard Notes is an open-source app that pledges to securely encrypt your notes and sync those files across multiple devices. Sync.com is a file-sharing app that touts itself as an encrypted, secure version of Dropbox.
Communicating securely
To protect your email messages from prying eyes, check out ProtonMail, a service based in Switzerland that's obsessed with privacy. The app uses end-to-end encryption to keep the contents of your inbox safe. No one, not even ProtonMail, can read your messages. ProtonMail works best when both the sender and recipient use it. Keep in mind that metadata, such as the subject line of the email and the sender and recipient's email address, isn't encrypted.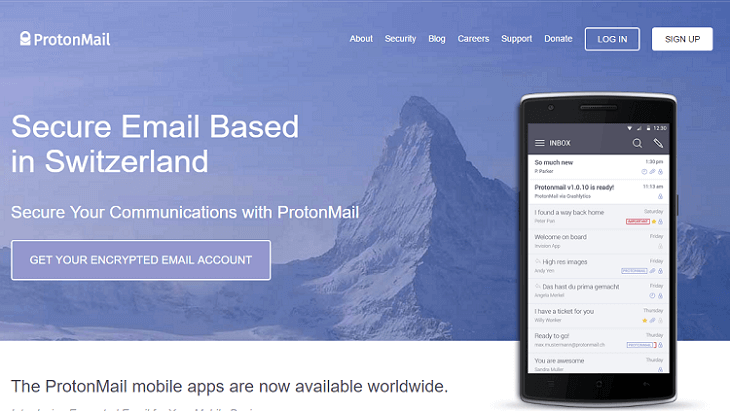 For text messages, Signal Private Messenger offers end-to-end encryption if both users are on Signal. Users can also make encrypted phone calls to each other. Signal says it collects very little metadata.
For routine, work-related phone calls and texts, check out Google Voice. Google provides a free phone number that can be assigned to multiple phones — even a land line. Your original phone numbers will still work. In the Google Voice app for Android, when someone leaves you a voice mail, Google transcribes (somewhat accurately) the message, so you can quickly read it and get the gist of what the person wants without even listening to it. When someone calls your Google number, you can press 4 to record the call — another handy tool if you're caught without a recorder. You get an e-mail of each voice mail and audio recording, and you can embed them on Web pages. Lifehacker examined the pros and cons of Google Voice after it was unveiled.
If you're concerned about your online activities being tracked by advertisers, one option is Firefox Focus, a free browser that lets you block or erase tracking cookies, your browsing history and unwanted advertisements. You can also surf the web anonymously via the Tor network with Orfox, which is based on the open-source code for the Firefox browser but with tweaks to make it compatible with Android.
Scanning documents
A big part of a reporter's job is making copies of records, analyzing them and sharing them. Our smartphones have become personal photocopy machines.
To take pictures of multiple pages of documents and combine those images into a single pdf file, I use CamScanner. After photographing a page, you can crop the image and adjust brightness levels. The final result is a high-quality document that you can publish online with a news story or upload to your favorite file-sharing app.
Gathering and sharing news
Nuzzle is a handy addition to your social media arsenal. Sync the Android app to your Twitter account and it alerts you whenever a big story is blowing up on Twitter. It's a useful way to stay informed about the stories people are sharing online.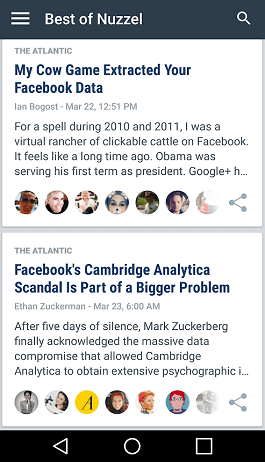 Andmade Share is a cool little utility app that lets you customize sharing options in Android. It solves the frustration of encountering different layouts every time you try sharing content in Facebook, YouTube, and other apps.
Monitor radio traffic of police officers, firefighters and paramedics using a radio scanner app such as Broadcastify. The free version has annoying ads, but signing up for an annual membership removes the ads and grants you access to radio archives.
For political junkies, the Sunlight Foundation made the Congress Android app. You can look up profiles of U.S. senators and representatives, track the bills they file and receive notifications on your phone when the status of a bill changes. ProPublica took over the foundation's online tools and the Congress app still runs smoothly.
The best weather app I've found is AccuWeather Platinum. It's not perfect but it does offer timely precipitation maps and decent predictions of when it will rain at your exact location and for how long.
There's no shortage of photo-editing apps for Android but I find myself using the reliable features of the default Google Photos app. You can fine-tune brightness, saturation and other aspects of each photo, and Google recently introduced a feature that stabilizes shaky video. Google Photos also automatically saves photos and videos in the cloud, if you want it to.
Beyond Android apps
One of the unique things about Android is you can customize your phone's home screen with app launchers and widgets. You're not stuck with the default home screen on your device.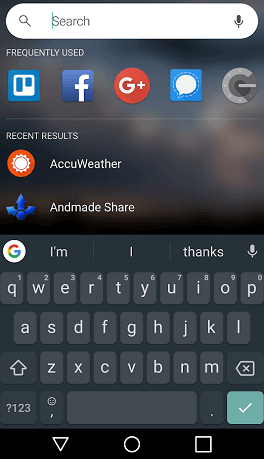 Evie Launcher offers a polished interface and a wide array of customization options. The developers promise to take your privacy seriously.
Tapping on Evie's search box on the home screen lets you search the web with your choice of three search engines, not just Google. For privacy advocates, you can select DuckDuckGo as your default search engine. Evie also displays recently used apps in the search interface.
Evie's privacy policy says it collects some user data to personalize search results, but it doesn't share identifying information with third parties. You can adjust your permission settings to prevent Evie from accessing your location and contacts list.
Android widgets are snazzy tools that can be huge time savers. Google Calendar's widget lets you scroll through all your upcoming events on your home screen without having to open the actual calendar app. Widgets for Google Maps let you save directions to specific locations. Save a Google Maps widget for "work," for example, and save yourself some time every morning navigating the chaos of rush hour.
To find widgets, hold your finger on a blank area of your home screen and the option to add one will appear.
Read more: Web tools and apps to track weather emergencies in Texas
You can also add bookmarks to your home screen to quickly check web pages with one tap. This feature is handy for emergency calls. Whenever I hear sirens nearby and I want to find out what's going on, I tap on my bookmark for the San Antonio Fire Department's "active fires" dispatch page. Up pops a list of active emergencies and their locations in San Antonio. Use this technique for any website you routinely check on your phone.
Did I miss any Android goodies? Let me know, I'm updating this post from time to time.