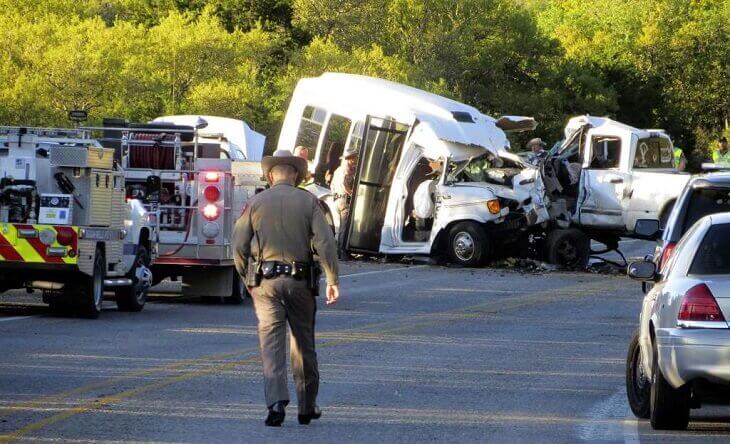 Investigative stories across Texas that uncovered hidden facts and held officials accountable.
Pot found in truck that hit church bus near Leakey, DPS says | San Antonio Express-News
"Jack D. Young had taken prescription pills and was in possession of marijuana when he crashed his pickup into a church bus March 29 on U.S. 83, killing 13 people, according to court records released Tuesday that also bolstered reports that he was texting while driving." Story by Zeke MacCormack.
Embattled TABC chief Sherry Cook is stepping down | Texas Tribune
"The move comes after The Texas Tribune reported that Cook and others at the agency had been jet-setting around the country to attend conferences at swanky resorts from Florida to Hawaii." Story by Jay Root.
Texas police withheld records of their son's death. Now they know why | Austin American-Statesman
"Civil rights attorneys say that Texas's unfriendly law enforcement open records law, when combined with recent U.S. Supreme Court decisions, create a potent legal Catch-22 that can thwart police accountability." Story by Eric Dexheimer.
How to spend $850 million | San Antonio Express-News
"San Antonio voters will go to the polls May 6 to decide on a bond issue that will fund everything from street repairs to affordable housing. Here's a look at the six propositions on the ballot." Story by Vianna Davila.
District 9 San Antonio City Council candidate sues opponent over residency | San Antonio Express-News
"Patrick Von Dohlen, one of the 10 candidates seeking the open District 9 City Council seat, on Monday said he's asking the district courts to declare opponent Lynlie Wallace an ineligible candidate. The San Antonio Express-News exposed Wallace's residency issues — that she lives in Austin, not the District 9 home she declares is her primary residency. Much of Von Dohlen's court filing is based on stories and columns from the Express-News." Story by Josh Baugh.
How many doses of lethal injection drugs does Texas have? | Texas Tribune
"With execution drugs in short supply across the nation and increasing secrecy about the companies that provide them, The Texas Tribune is keeping track of movement in the state's supply." Interactive story by Jolie McCullough.
Former Alamo manager had to repay credit card charges | San Antonio Express-News
"Ian Oldaker, the Alamo's former chief operations officer, resigned in March after agreeing to repay more than $1,600 in personal expenses that did not qualify for reimbursement, according to records obtained by the San Antonio Express-News through the Texas Public Information Act." Story by Elena Mejia Lutz and Scott Huddleston.