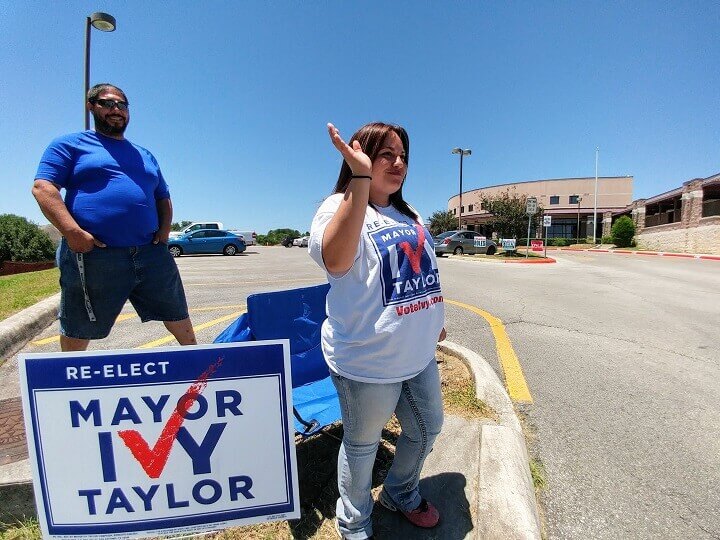 After every election, Bexar County officials release voting-precinct data that make for interesting reading for anyone who wants to know how their neighborhood voted or how each candidate fared in different parts of the community.
For the 2017 mayoral race in San Antonio, here's how the results look in an interactive map we made based on the data released today:
Taylor
Nirenberg
Medina
Tie/Other Candidate
A few things stood out to me in the map. From our story:
Mayor Ivy Taylor lost her dominance in some North Side voting precincts against City Councilman Ron Nirenberg, whose strong performance in last week's election forced the mayor into a rare runoff involving an elected incumbent.

Data released Monday by the Bexar County Elections Department shows that more voters supported Nirenberg in 31 precincts that had previously gone to Taylor when she first ran for mayor in 2015, according to an analysis by the San Antonio Express-News.

Nirenberg won precincts in his home turf of District 8 on the North Side, where he has served as a councilman for four years, along with other parts of the North Side where voters had gravitated toward Taylor in the past election. Nirenberg also won support in downtown neighborhoods.
Runoffs for incumbent mayors are rare in San Antonio. I asked Taylor whether she was surprised by the results and she said she wasn't, given the crowded ballot of 14 candidates.
"It was a competitive race with three strong campaigns," Taylor said. "My challenge is to do what I've been doing during my time as mayor, building consensus and coalitions."
Manuel Medina, the chairman of the Bexar County Democratic Party who came in third place in the race, mostly won precincts on the South and West sides.
Related: Interactive map shows how Bexar County voted in the 2016 presidential election
In those 78 voting precincts, Medina won 43 percent of more than 9,400 votes, and Nirenberg and Taylor split the difference, winning 29 percent and 28 percent, respectively.
I asked Medina how he thinks his supporters will vote in the runoff and whether he plans on making any endorsements. He chuckled.
"I haven't got that far yet," he said as he looked at the precinct results. He later called me back with a statement.
"Our message of SA Today resonated with voters in heavily Hispanic, Democratic precincts on the South Side and West Side," he said. "In the runoff, they are likely to gravitate toward the candidate with a plan for today on the issue of generational poverty."
Who will that be?
"We'll see," Medina said.