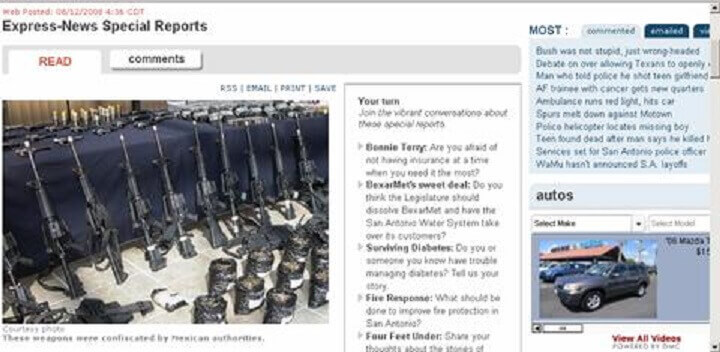 Our paper's web guru, Fernando Ortiz, designed this new web page to showcase some of the best journalism at the San Antonio Express-News. The page offers a list of links to online forums where readers can talk about the stories, and it highlights the most recent project by Todd Bensman about gunrunning in Mexico.
At a time when the economy is souring and newspapers across the country are offering buyouts to staff or laying them off, it's nice to show why journalism is worth saving.
There's no question newspapers are imperfect. But if it weren't for newspapers, people wouldn't be able to read stories like Four Feet Under, the articles by Nancy Martinez that examined the case of every child killed in Bexar County during a yearlong period:
Today the San Antonio Express-News illuminates the crisis by giving it a human face. Fourteen faces, actually. That's how many child deaths CPS classified as abuse or neglect in Bexar County in the fiscal year ending Aug. 31, 2006 — a per-capita fatality rate that ranks third in the state and much higher than the national average.

We spent 10 months examining the lives and deaths of all 14 children, whose fates ranged from brutal abuse to heartbreaking lapses in judgment by otherwise loving parents, from failings of system to failings of society.

From sources, police and autopsy records and interviews with dozens of family members, law enforcement officers and child protection officials, there emerged out of the statistics real children. David. Triston. Abigail. Jay. Jose. Ericka. Elijah. Lenny. Brian. Guadalupe. Ruben. Brianna. Braden. Treasure.

Some of the children were smothered. Three of them drowned. Eight came from families that had a history with CPS.

Most of the families couldn't afford funerals or gravestones.

Here, all in one place for the first time, are those 14 stories, representing a year's worth of deaths, many heretofore untold. Short lives. Little histories. The big picture, pieced together in a way you've never seen before.
Readers also wouldn't be able to learn from Lisa Sandberg's Death by the Pound series, which showed how San Antonio puts 50,000 unwanted pets and animals to death every year:
Pawing at the rusty crate it shared with three mutts, the big husky howled.

It must know, Rasiel Galvan mused.

Galvan is a supervisor at the San Antonio Animal Care and Control shelter, commonly known as the pound. On this humid morning, when the gas chamber was ready for another load, the husky would join a grim processional that this year will send nearly 50,000 cats and dogs to their deaths — more per capita than any other major American city.

Masked by euphemism and hidden from the public, the ritual of animal euthanasia proceeds unabated every day but Sunday.

In some ways, what happens in San Antonio is no different from what happens nationwide; dealing with strays and unwanted pets is a pound's sad mission.

But nowhere does death cast a longer shadow than at San Antonio's pound. Simply entering virtually assures an animal's doom.
These are stories that need to be told. And it takes time, skill and — yes — money to tell these stories. Without scrutiny, these complicated problems would continue to fester.